Brief History of Cape Towns Townships
Uitvlugt /Ndabeni (1902)

The first segregated township to be developed by the white authorities was Ndabeni in 1902. Bubonic plague had broken out which was soon blamed on 'these uncontrolled Kafir hordes' and many whites demanded segregation. Apparently, the Cape Town Medical Officer for Health declared that the living conditions of Africans were 'very undesirable, both from the point of view of sanitation and socially, by bringing uncleanly, half-civilised units into intimate contact with the more cleanly and civilised portion of the community".
Uitvlugt (later known as Ndabeni) was established on the Cape Flats, next to a sewerage plant. Between 6 000 and 7 000 people were forcibly moved from District Six, by the city's docks, to Ndabeni. It was a Coloured rather than Black African township being comprised of 'Hottentot, Malay and mixed races'.
The township comprised 5 large dormitories each housing 500 men, and 615 lean-to huts made of corrugated iron, without floors, which often flooded in the winter rains. Washing and cooking facilities were public and inadequate, and the grid-like streets were patrolled by African constables (see Capetown At).

Map showing forced eastward migration away from Cape Town of Coloured and African populations from District Six, through Ndabeni (1902) to Langa (1923), Nyanga (1946), Mitchell's Plain (1970) and Khay
Langa (1932)

In 1923 Langa township was established 5km south east of Ndabeni, and Ndabeni was dismantled under pressure from nearby white residents at Pinelands. Today it is an industrial estate mainly occupied by the textile and clothing factories. (For above see Wikipedia: Ndabeni)
What emerged at Langa 'was a design allowing maximum visibility of residents by the authorities and hence their control. No visitors or gatherings were allowed without permission from the superintendent, and the brewing of sorghum beer (utshwala) was prohibited' (see Capetown At).

In 1923 the Native (Urban Areas) Act was passed restricting the entry of Africans into the city. This deemed urban areas in South Africa as white and required all black African men to carry passes was replaced in 1945 by the Natives (Urban Areas) Consolidation Act, in 1945, which imposed essentially the same conditions. The Natives (Abolition of Passes and Co-ordination of Documents) Act, was passed in 1952 and required all black South Africans above the age of 16 to carry a pass at all times when in white areas.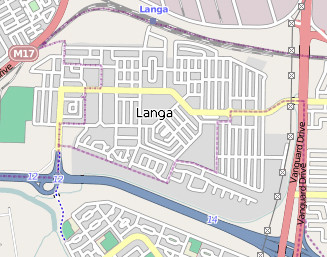 Nyanga (1946)
(Xhosa 'moon') is one of the oldest black townships in Cape Town. It was established in 1946 with 210 houses. In 1956 it was enlarged to include the Nyanga Transit Camp and the settlement of Mau Mau. The weekly rent for a house was 7s 6d compared to that for a shack of 6d and many people remained in shanty towns.
Nyanga is made up by eleven townships (Lusaka, KTC, Old Location, Maumau, Zwelitsha, Maholweni"Hostels", Black City, White City, Barcelona, Kanana & Europe. In 2001 it had a population of 58,452 of whom 99.54% were African and 50% of the housing units (13,734) were informal dwellings (Capetown.gov).
Nyanga is one of the most dangerous townships in Cape Town.According to data collected by the South African Institute of Race Relations (SAIRR) over 700 people were murdered in Gugulethu between 2005 and 2010. "This amounts to one murder every two-and-a-half days for five consecutive years." In 2011 murders were down from previous year's 217 to 198. Cape Argus. (There were 619 in the whole of the UK in 2011). Nyanga is situated 26km from Cape Town near to the international airport and next to the townships of Gugulethu and Crossroads.
Broad Estimates of Township Population Densities (People per km2)
Nyanga 17,000/km2 (45,000/sq)
Gugulethu 13,000/km2 (33,000/sq mi)
Khayelitsha density 7600/km2 (20000/sq mi)
Mitchell's Plain 4,400/km2 (11,000/sq mi)
Crossroads (1970s)

In 1952 the government' imposed 'The Prevention of Illegal Squatting Act' which forced local authorities to set up emergency or Transit Camps where people could be concentrated and controlled, and permitted authorities to destroy illegal shacks.

In the late 1950s the destruction of shack settlements increased in areas like Hout Bay and Elsies River. Over 5000 so-called 'bachelors' were forced to move into hostels, and thousands of 'illegals' – most of whom were women – were 'endorsed out' of the city back to the Eastern Cape.

In 1959, despite an outcry from employers, the Native Affairs Department decreed that no more Africans could be employed in Cape Town. At the same time, the conditions in the Eastern Cape were deteriorating and migrant labour was one of the few lifelines for many families.

The local government continued to clear squatter camps through the sixties and seventies. The Modderdam squatter camp was destroyed by two bulldozers during one week in August 1977. Many squatters moved to Crossroads and by 1977 there were 18,000 living there. Despite attempts close down Crossroads the government was forced to recognize it as an 'emergency camp in 1978 and install rudimentary water supplies and refuse collection.
In 1983 bloody violence broke out in Crossroads and growing tensions between the 'comrades' of the United Democratic Front and some residents led to the rise of the police-backed and armed 'witdoeke' (who wore white armbands) who set fire to all the Crossroads settlements and left 60,000 people homeless 
Mitchell's Plain (1970s)

In 1966 the government declared District Six in inner city Cape Town a 'whites only' area and despite tenacious resistance by 1982 more than 60,000 people had been relocated to the Cape Flats and Mitchell's Plain and the district had been flattened by bulldozers (see District Six Museum).
Mitchell's Plain was designed as a Coloured Township for middle-income families but by the late 1980s much of it had been reduced to ghetto areas where gangsterism and drug abuse were rife. It has a population of over 300,000 in 2001 of whom 84.2% are Coloured and 14.9% Black African. There was unemployment of 30% in 2001 which rates of between 60-80% in the northern and scattered western parts of the township. (See Wikipedia: Mitchell's Plain  andCape Town Gov).
Khayelitsha (1985)
The authorities created Khayelitsha in response to the immense pressures for some kind of home from migrants moving to the Cape and from those forced out of Crossroads by the witdoeke violence. Initially planned as four towns of 30,000 people with 4150 serviced plots (water and toilet) and 13,000 rented small block-built houses by 1990 the population had mushroomed to 450,000. Unemployment was 80% and 86% of the population lived in serviced or unserviced informal dwellings. Pressures on Khayelitsha only grew after the 1994 election of an ANC government as influx controls were abolished. Khayelitsha had a population of 406,000 in 2005, of whom 40% were under 19 years of age.